Explore Temecula – Local Favorites
Intazza – One of Temecula's newest coffee shops, opened in Jan 18, has a San Diego inspired industrial and simple designed. Intazza coffee shop has ___ ton roaster. Sip your coffee inside or relax on the outdoor garden like atmosphere. They have hands down the absolute best customer service.  951.387.4049
East Coffee –

This local Christian owned coffee shop serves the most amazing Chai tea ever, along with delicious Acai bowls, danishes, and sandwiches. East Coffee is located on the corner of Margarita and Pauba Rd. Closed on Sundays. 951.506.0955
The Press -The girls and I love this quaint boutique coffee shop and coffee roastery located in the historic Old Town Temecula.  Owned by a local husband-and-wife team serving specialty coffee and tea drinks. Perfect treat on a Saturday morning while visiting the local farmers market.  951.234.2014
The Original Pancake House – This place is great! Portions are huge, and prices are reasonable. They close at 2 pm. The German pancakes and cheese blitz are delicious. For those gluten-free guests, they make some amazing gluten-free pancakes. 🙂 951.296.9016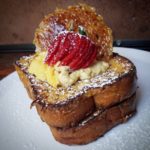 Toast – Open from 6-3; this hip breakfast joint is great for small groups.  The food is amazing, and the drinks are even better.   Wait times vary on the weekends from 15-45 minutes.  Totally worth the wait!  Call ahead for reservations.  951.252.2500
Rodrigo's Mexican Restaurant – $12.99 All you can eat Sunday Brunch!  Say no more!  Sip a breakfast margarita while enjoying some homemade chilliquiatas. 951.506.4191
Meritage at Callaway – Feel like you are eating in a tree house, above the Callaway winery. Contemporary Mediterranean-style cuisine paired with Callaway's wines and stunning  panoramic vineyard views. 951.587.8889
Falkner –  Enjoy your Mediterranean style lunch while overlooking the stunning views. They offer both indoor and patio seating. Reservations are encouraged. 951.676.8231
_
Mount Palomar – Annatas's Bistro and Bar located at Mount Palomar winery is known for there American fusion menu inspired by international cuisine.  *Enjoy a half-price bottle of wine with the purchase of two entree's Mon- Fri. 951.676.5047
Vindemia  – Known for their red wines, Vindemia is one of the newest and smallest wineries. This gorgeous outdoor winery is private and offers a custom experience to each guest.
Maurice Car'rie – known for their sparkling wines and sweet whites and the most amazing garlic stuffed brie bread!  Can't go wrong getting one with your wine tastings. 
Lorimar – Walking distance from one of our vacation rentals. This vineyard is one of the few that stay open in the evening.  Expect live music and a great atmosphere until 10 pm. 
Avensole – One of Temecula's newest wineries offers a gorgeous outdoor seating area with live music on the weekends.  If you are lucky, they will be serving their homemade sangria on the patio. Best winery for a sunset.
Wilson Creek – This winery is huge, and the almond champagne is their specialty.  Wonderful customer service.  Enjoy a winearitia on a hot summer day on the large outdoor seating area. 
Bella Vista – Home of Charlie the duck and Temecula's oldest public winery.  Bella Vista has beautifully manicured outdoor seating area and great service. 
Robert Renzoni – This family owned winery has been fermenting grapes for over 100 years.  My girlfriends and I go here and pull out our paints and canvases on an outdoor table and relax with a glass of wine in hand. 
Miramonte – Fun, fun, fun! Live music, large tasting room and a view that is incomparable. Miramonte is known for their Sangria. It's one of my favorites. 
Europa – Love this winery. Happened to go up on Saint Patties day and they served us green wine! 🙂  The indoor wine tasting is rather small, but the outdoor covered seating makes up for it. Enjoy a glass of chardonnay to go with the cheese plate you can purchase.
Wiens – This family-owned winery is known in the valley for the best red wine in the area.  I can tell you personally, they are delicious!!!
Goat and Vine – The absolute best pizza ever!!!  The carnitas jalapeno pizza with a red sangria is a must! Sign up on the nowait app for a shorter wait time.  Did I mention its hands down BEST pizza ever?!?   951-695-5600
Brushfire Kitchen – AAMMMAAZZING! Healthy, tasty and unique.  Brushfire Grill knows how to cook meat!  You can't go wrong with any of there options.  Ask for the Amazon sauce, to die for! A bit on the pricey side, about $14 a plate, but worth it!  Live music on the weekends and they serve beer and wine. 951-296-0190
Sorrell – Great atmosphere, amazing food and beer! The pork chops are delicious and they have a large vegan option as well. 951-296-3372
MonstaSnow – Unicorns are real here!  My daughter's can't get enough of this family-owned ice cream shop.  The Unicorn Bubble ice cream is their favorite hands down! I love the shaved ice cream!
Truly Madly Sweetly – Cathyn an elementary librarian decided at 50 she wanted to open her very own bakery, and that is exactly what she did. Her location is great, and her cupcakes are amazing!
DOH – This newly opened ice cream shop makes handcrafted ice cream, and edible cookie DOH made. Fill your sweet tooth late on the weekends; they close at 11 PM
Contact us
You do not have permission to view this form.