Property Management
Learn how Barefoot Vacation Rentals can assist in making your home a successful Short Term Rental Property.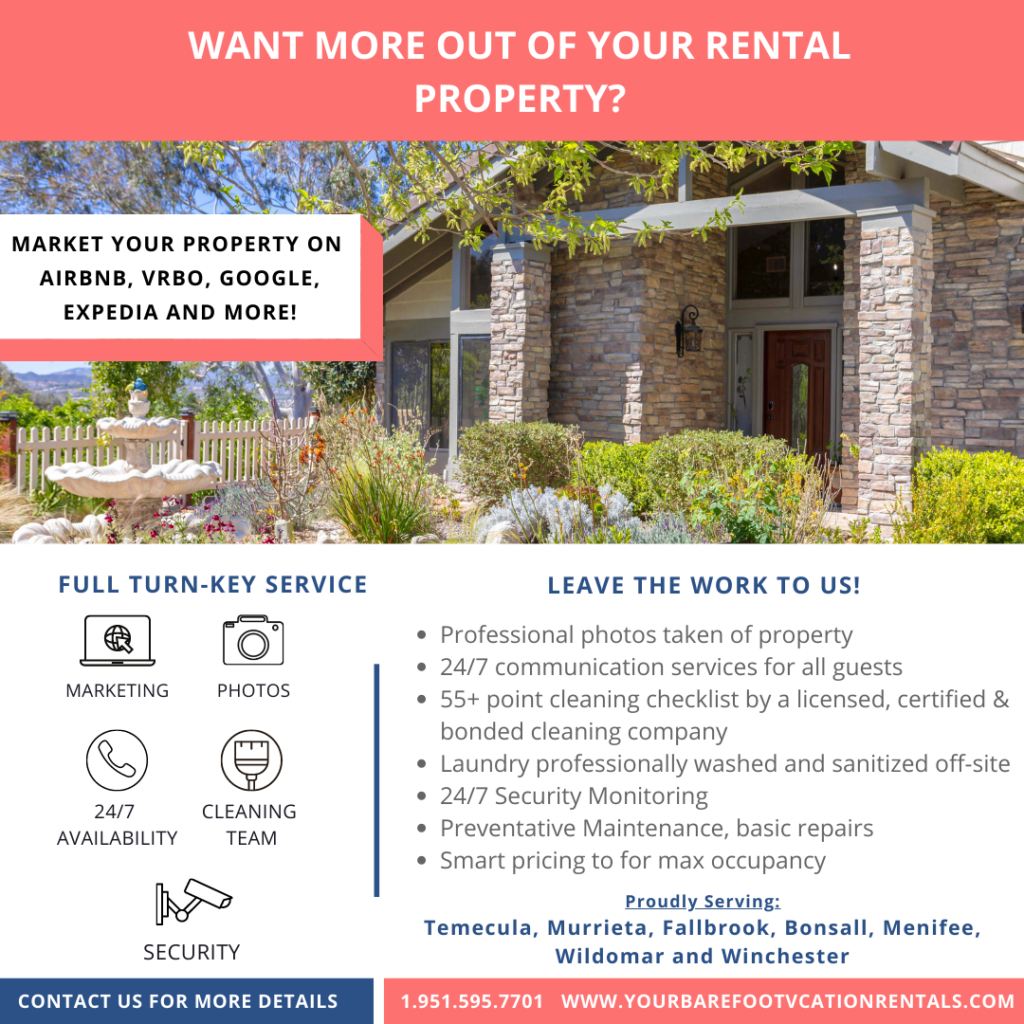 - WHAT MAKES US STAND APART FROM THE OTHERS -
We are local! We live in town, we have personal relationships the local businesses and wineries we suggest people to go to.
Jessica sits on the Vacation Rentals board for the Visit Temecula Bureau, helping with creating new policies and updating current ones to better benefit the vacation rental community.
We have a local team available 24 hours, 7 days a week, including Holidays.
We are passionate about integrity, and always do the right thing, even when no one is looking.
We have strict rules for our guests, to ensure proper care for your home and peace for all your neighbors.
All linen washed and dried at an off site location.
Soft goods including; toilet paper, coffee, water bottles, paper towels, salt, Olive oil, etc. stocked and included in each rental.
25+ repair list. Parts and labor at no cost to our homeowners.
We LOVE what we do. We love sharing our town with others and hearing about the great experience they had.
- MAINTENANCE DONE RIGHT -
Jessica and her husband both served in the military. Jessica, an HVAC technician, and her husband Matt an Electrician. Matt is also the Barefoot Vacation Rentals Grounds supervisor, bringing many skills to the table. The grounds team all have handy (wo)man experience and are learning more skills daily from both Jessica and Matt. If a contractor does need to be called out, we have over the years gathered tried and true local certified technicians that preform above expectations for a competitive price. We use a system that helps track the recurring maintenance and work orders for each of the homes we manage.
LONG TERM VS. SHORT TERM RENTALS
- ITEMS YOU'LL NEED IN YOUR RENTAL -
- GOOD NEIGHBOR BROCHURE -
At Barefoot Vacation Rentals we strive to make sure every guest receives a five star experience, insuring that they will write an amazing review and  tell their friends about their time. Doing this we are able to fill our homes higher than the average occupancy rate in the local area.  Allowing us to providing a great return for our home owners. 
My husband and I were referred to Jessica by a friend. We were desperately looking for someone to manage our Airbnb for us after we relocated with the military. We decided to go with Jessica even though she didn't live locally and we are SO glad we did! Jessica is as thorough are you can get in a property manager and is extremely organized. She has a real passion for what she does and truly cares about you and how she runs your property. She is honest and has been very forthcoming in every aspect of the rental process with us. Since we are new at this whole rental thing, that has been very helpful. We feel at ease leaving our rental in Jessica's hands and would recommend her to anyone looking for an all around great real estate manager, or even looking to rent one of her properties! Check her out!
This house was amazing and it exceeded my expectations. Jessica was amazing host and we will stay here again.
You are a wonderful host! Thanks for all of your quick responses. We don't get to see our daughter and son-in-law as often as we'd like, and the house allowed us and our son-in-law's parents to spend lots of quality time together in the living areas and back patio area. We felt like we were at a resort!
Jessica of Barefoot Vacation Rentals is one of the most friendly and charismatic business owners that I have ever had the pleasure to work with. A true professional, she is punctual, honest, and a forward-thinker. She sincerely cares about the needs of each guest and homeowner. Her properties are well taken care of and each visit is personalized to the guests' specific needs. I look forward to staying with her in the future and highly recommend utilizing her experience and professionalism in managing your vacation rental property
One of our homes, Old West Temecula, was featured on the show Staycation. Check out the clip from the show.
VIEW OUR CURRENT LISTINGS: